Soooo, was anyone else watching The 100 last night? I know I was, this show has been one of my favorites for so long, well really since the start. Even when the first book was coming out, I was so excited to read the book and see the show. They are fortunately very different which helps with the enjoyment of both. Today I'm going to talk about Day 21, the second book in the series.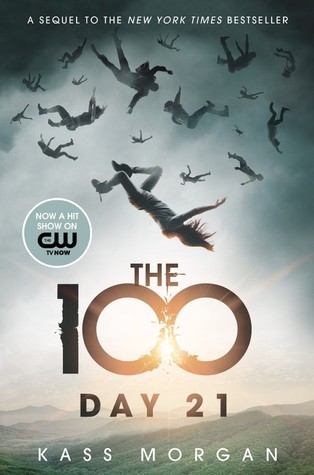 For centuries after a nuclear war destroyed the Earth, the human race has lived on spaceships far above the radioactive surface. Now, for one hundred juvenile delinquents, it's time to return home. Their mission: recolonize the savage land. The future of humanity rests in their hands.

Read the series that inspired the hit TV show. The 100, Day 21,and Homecoming are gathered together for the first time in this striking boxed set, perfect for fans and series newcomers alike.

LINKS: Goodreads | Amazon | B&N
About Kass Morgan:

Kass Morgan studied literature at Brown and Oxford, and now resides in Brooklyn, where she lives in constant fear of her Ikea bookcase collapsing and burying her under a mound of science fiction and Victorian novels. Kass is currently working on the sequel to The 100, which she'll finish as soon as she finds a coffee shop that allows laptops on the weekend.
LINKS: Website | Twitter

It was really hard to read this book and separate it from the show. What I was hoping I could do was read each book with each new season, but the books and show diverged so much from the show that I didn't even need to do that.
One of the things that I loved about the books was how different all of the characters were from how I expected them to behave. I really enjoyed following Glass and her story on the Arc because they it offered a whole other view of the story that we didn't get on the show. We got to see the arc as they panicked and learned that they were losing air. Glass had so much to show us, and I enjoyed the fast paced nature of her chapters. There was so much panic associated with the fall of the Arc.
The entire book is face paced and a super great read. I enjoyed following all the characters on their individual stories. For your chance to explore the bookish world of The 100, check out the giveaway below!

Tour Schedule:
Week 1:
1/18: Once Upon A Twilight - Q&A w/Kass Morgan
1/19: Don't Fold The Page - Review (The 100)
1/20: No BS Book Review - Getting' GIFy With It!
1/21: The Irish Banana Review - The 100 Inspired Makeup
1/22: Paperback Princess - Review (Day 21)

Week 2:
1/25: Swoony Boys Podcast - Interview w/Clarke & Bellamy
1/26: BooksABlog - If I Were Part of The 100
1/27: Fangirl Confessions - Review (Homecoming)
1/28: Reading Teen - Why Bellarke Are the OTP
1/29: Bookiemoji - Kass Morgan Guest Post
a Rafflecopter giveaway