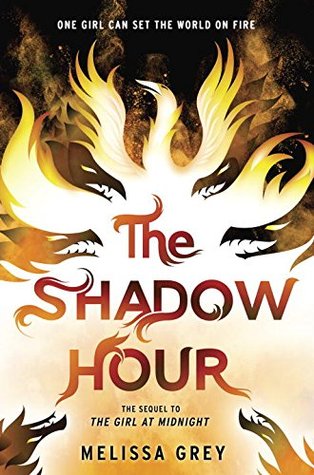 Author: Melissa Grey
Goodreads Rating: 4.16
Format: ARC from Publisher for Blog Tour
CURRENTLY ON SALE THROUGH THE END OF JULY
Everything in Echo's life changed in a blinding flash when she learned the startling truth: she is the firebird, the creature of light that is said to bring peace.

The firebird has come into the world, but it has not come alone. Every action has an equal and opposite reaction, and Echo can feel a great and terrible darkness rising in the distance. Cosmic forces threaten to tear the world apart.

Echo has already lost her home, her family, and her boyfriend. Now, as the firebird, her path is filled with even greater dangers than the ones she's already overcome.

She knows the Dragon Prince will not fall without a fight.

Echo must decide: can she wield the power of her true nature--or will it prove too strong for her, and burn what's left of her world to the ground?

Welcome to the shadow hour.
LINKS: Amazon | B&N | Indiebound | iBooks | The Book Depository
Melissa Grey penned her first short story at the age of twelve and hasn't stopped writing since. As an undergrad at Yale, she learned how ride a horse and shoot a bow and arrow at the same time, but hasn't had much use for that skill since graduating in 2008.
Her debut novel, THE GIRL AT

MIDNIGHT

(Delacorte/Random House), is out now. The second book in the trilogy, THE SHADOW HOUR, will be published July 2016. The third and final book of the series will come out summer 2017.
To learn more about Melissa, visit melissa-grey.com and follow her on Twitter @meligrey.
Nicole's Review:
This has been one of my most sought after books since I read the first one last year. I had to wait extra long to read this bad boy since I got one of the earlier ARCS for The Girl At Midnight.
Before getting to the meat of the book, can we talk about how AMAZING the covers have been? And once you really read the book, the cover makes all the sense in the world. I also adore how it's almost like one of those illusions where there are two different things hidden. Pure Genius!

The amazing cover is just a hint at the wonderful cast of characters that Melissa brings to life. We get to see a side of each character that we didn't get before and not only that we get to learn more about everyone, like Altair and what his motives really are and about Jasper and how he became this amazing confident Avicen that he is today.
Echo's journey with the firebird began as the last book ended. This book we really get to see where her quest took her and if it really was for the good of all the people.
I think what I liked best about this book was seeing Tanith more and more. Grey does an amazing job of creating these characters that are both good and evil, and seeing all sides of Tanith makes her more human.
Ugh, reading this book just makes me want want the last book to see where this epic battle is going to take us.
Brianna's Review:
For those of you who don't know, Melissa Grey's novels are a reader's dream. It has all the makings of a perfect series. Echo is pretty much the best friend/big sister, you've always wanted and probably also always wanted to be. She's unafraid of confrontation, is extremely loyal and also has a way out of most things (either by way of quip or quick thinking) that should be admired. In the first part of the three book series, Echo-- an orphan who found a home and family with the Avicen, a powerful race of magical beings who live beneath New York City-- became allies with the former Dragon Prince, who belonged to another ancient race bent on the destruction of the Avicen-- who lost his home, right to rule, and the love of his life while searching for the all-powerful, reverent Firebird. Long story short, the beginning of the series had forbidden love, a worldwide quest and an ensemble that was Scoobie gang worthy.
In THE SHADOW HOUR (Spoilers Ahead), we find her on the run from two sides of a centuries old war as she struggles with the newfound knowledge that she's the Firebird, a mythological being that may be not only capable of destroying the world but also saving it.The second book lived up to the first in every way. It was fun without being too lighthearted, it was dramatic without being overdone.
If a book could be a summer blockbuster, THE SHADOW HOUR would be it. A brilliant follow-up to the equally fantastic debut, THE SHADOW HOUR has all the makings of a well-rounded epic. I's delightful, full of breathless action and nail-biting moments--I ruined my gel manicure on this book, everyone. It's a quick read in that I NEEDED to know what happens next at every turn.

Not only is the world wholly originally--can I dress up as Jasper for Halloween, please and thanks-- but the writing is also incredible and I can't find fault in it. In fact, I would be extremely happy if I could just read outtakes of the characters going about their business--like Jasper and Ivy debating at a cafe while Ivy plays referee, or Echo teaching Caius how to text. That's how much I love these characters. I would literally read them taking part in the most mundane activities.

Sometimes second books get stuck in a sequel slump. THE SHADOW HOUR did not at all. It had all the wonder and intensity of a debut. I loved every moment of it.

And right now, the book is ON SALE on KINDLE. Buy it here. You know you want this book while you're at the pool or beach. You can buy this debut for less than what a delicious iced coffee would cost. Trust me, people. It's worth it!

Also, in case you're interested, I RAVED about THE GIRL AT

MIDNIGHT

here. Read it if you need another reason to buy this series.
a Rafflecopter giveaway