As many of you know, this past holiday season, I came into possession of a wonderful device created just to make the lives of us readers easier, I got a Nook Simple Touch. This device is the third of its kind to be released by Barnes and Noble. Its predecessors, The Nook First Edition was large, bulky and had a difficult touch screen and the Nook Color was more tablet than ereader. And thus, the Nook Simple Touch was born, with the benefit of just reading like the First Edition but more shapely like the Color.
My boyfriends mother got the First Edition for Christmas when it came out, and I will admit I loved the idea of an e-reader. I helped to set it up mostly because I was eager to play around on it, but I was disappointed by it, and it discouraged by wanting to get one. The idea was nice, but the tiny touch screen was difficult and you couldn't even use a stylus to alleviate the difficulty of using your finger to select keys the size of your pinky nail. Then my older sister got the Nook Color as did a friend of mine. Again, I helped my friend set up her Nook because I wanted to play around on it, and I liked how it had a lot of features, but the screen hurt my eyes, I liked the e-ink technology of the First Edition and so the idea of reading a computer screen hurt my eyes. I nevertheless borrowed my sister's Color so that I could see what it was like reading with it-this too failed to suit my needs.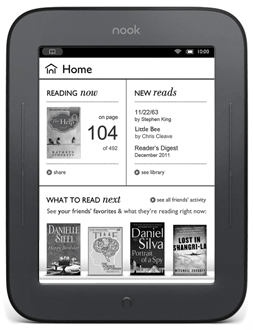 And so I began to feel like Goldylocks waiting to try baby bears porridge. When the Simple Touch came out, and I played with it in stores, I was completely in love. It was small, had an e-ink screen, and it was light, but there was so much more to it than that.
Size
As someone that lugs her books back and forth, its important to have something small that I can use to read. During my time reading 11/22/63, I have come to appreciate my Nook even more. Weighing in at less than 8 pounds, this little baby is smaller than the average size of a paperback. Half the time I carry it with me just because it fits so snug in my purse. The page turning buttons on the side make it super easy to turn the page without needing both hands.
Reading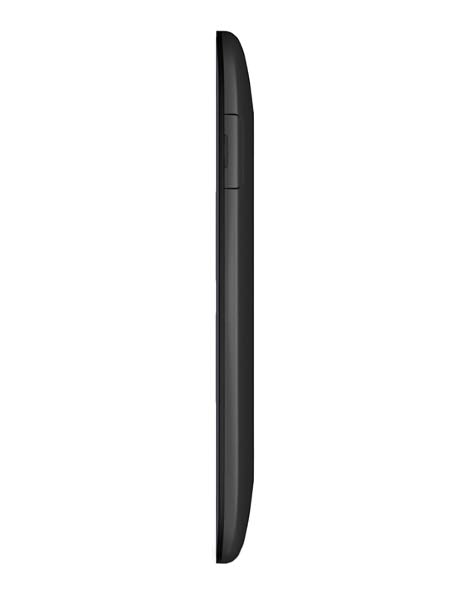 Side view of the
Nook Simple
Touch
I know that some of my friends don't like to use Nooks or other e-readers because nothing beats turning a page and holding a book, and they're right. I love holding books to and being able to turn the page myself. But how many times in turning that page have your eyes wandered too far ahead because a different typeset caught your eye? With the Nook that doesn't happen, and better yet, when its been awhile and your picking up in the middle of a book after a few months or another book in a series and you can't remember who that person is, you can search the book for that name or term. I did it when I was reading Mockingjay. I couldn't remember who Seneca Crane was and I hit find, and it gave the his name in context which lead to an "ahhh thats who he is" moment.
Another benefit is that you have your library right at your fingertips. Rather than lug 3 books with me on my trip to Pittsburgh, I brought one book and my Nook. When I finished my first book I still had my whole library on my Nook, and it was a good thing too because I finished a second book in the car. I'm not sure what it is about Nook vs. physical books, but I found that I read them a lot faster too.
Adobe EPUB
Library
One of the great benefits about the Nook and most e-readers is that you can get library books on them. While I can't get every single book, you still have access to a lot of e-books. On my library system, you register your library card online, and then you add 10 books that you want to "request" give them your email address and when its your turn with the book, follow the steps, download Adobe EPub (only once), connect your Nook to your computer and you drag the book to the little Nook icon, and then BOOM! You have the book on your Nook.
Cost
The Nook Simple Touch currently costs $99 plus tax depends on where you are, other than the Nook First Generation which you can no longer get from Barnes and Noble. The Nook Color is the second tier of Nook's costing $169 on the website. Lastly there is the Nook Tablet which starts at $199 for the 8GB and $249 for the 16GB. The cost of books then range from free to textbooks for $200 or $64 for a collection of books such as the Sookie Stackhouse books. The last expense is accessories like a cover or matte screen, or even a stylus.
Benefits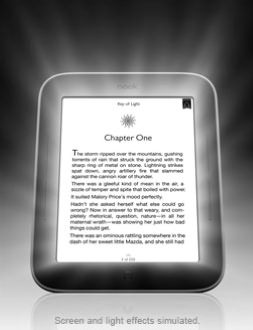 I love that I can just lie in bed and hold this over my head and simply use the other hand to swipe. I also love that all of Barnes and Noble's 3 million book library is at my fingertips so long as I have wifi. It was the best to finish Catching Fire and be able to download Mockingjay right then and there. One other great feature is the option to lend books to friends. A good friend of mine got the Nook app on her iPad and so I was able to loan her Mockingjay for her to read. I can also add Nook friends so that I can see what loanable books they have for me to borrow. I also love that I can download library books from my computer and not have to worry about going to the library to get them or return them. If I wanted to I could take notes on my books and change the font size so it would be easier to read. It's also great if you're traveling so I don't have to worry about bringing 12 books with me at once.
Disadvantages
As far as disadvantages go, its not the same as holding a book. I miss being able to judge how far I am in a book by pinching the pages. One of my other biggest problems with my Nook is that you need a light for it, so when I'm going on those early road trips at 5 AM with my dad, I can't read my Nook for a lack of natural light, but thats no different than reading an actual book. If you get a Color or a Tablet then its going to be harder on your eyes, but that's a matter of preference and opinion.
Overall
I like that I have my Nook for occasional use and that I don't need it all the time. I like that it has a long battery life, and that I can read it both indoors and outdoors. I also love that its so small an compact that it fits right in my purse and I don't have to worry about something folding the pages or the cover within my bag. If you're considering an e-reader just for reading, then this bad boy is your Nook, and you can even check out the new Nook Simple Touch with Glowlight out on May 1, 2012!