Today on the blog, I have April Henry with an interview about her new book, Body in The Woods. I read and reviewed The Girl Who Was Supposed to Die last year and it was a really interesting read. Today however we're focusing on The Body in the Woods, a new series about three teens on a Search and Rescue Squad while in high school, each teen has their own challenges to face while also facing those of the Squad. Haven't heard about it? Maybe you've seen the cover. Check it out below.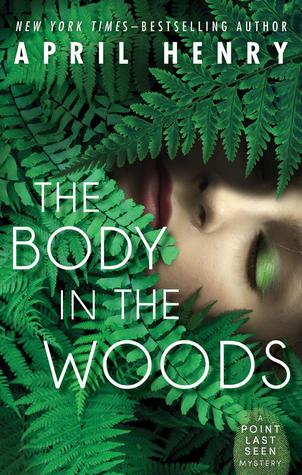 In this new series told from multiple perspectives, teen members of a search and rescue team discover a dead body in the woods.




Alexis, Nick, and Ruby have very different backgrounds: Alexis has spent her life covering for her mom's mental illness, Nick's bravado hides his fear of not being good enough, and Ruby just wants to pursue her eccentric interests in a world that doesn't understand her. When the three teens join Portland County Sheriff's Search and Rescue, they are teamed up to search for a autistic man lost in the woods. What they find instead is a dead body. In a friendship that will be forged in danger, fear, and courage, the three team up to find the girl's killer—before he can strike one of their own.




This first book in April Henry's Point Last Seen YA mystery series is full of riveting suspense, putting readers in the middle of harrowing rescues and crime scene investigations.
So without further ado, April Henry is here to answer a few questions about her writing process and her new series.
1. You have young adults in an emergency services role, did you participate in any such activities while you were in high school?
When I was a teen, I was either working to save money for college (my parents could not afford it), or I was reading.

I did have a brief stint as a candy striper at Rogue Valley

Hospital.

I recall my horror at being told we might have to record, not only how much patients drank, but how much they urinated.

(I still remember that five ounces equals 150 millimeters.) My other strong memory from that time was a boy a couple of years older than me who had been left a paraplegic by an accident.

His bed looked like a hamster's wheel. The nurses would turn it to different angles to minimize bedsores.

He had been an active guy.

I just remember how bored he was, tossing his corded phone into the air and catching it.

In a book, I would have become friends with him, but in real life I was intimidated by him being three years older.
2. You write a lot of thrillers, do you find that you scare easy or are you made of steel when it comes to this?


I'm pretty good at not being frightened by research.

I have seen a lot of photos of horrible things.

Real things.

I try not to think about them very much.
I'm not sure how I would do if I was confronted by a killer.

Maybe that's why I explore it so often in books.

I've been playing around with an idea inspired by real life.

A guy in a van was recently stalking women in Portland, making notes about which ones he wanted to take.

He had already kidnapped one teen from Paradise Tan. She escaped by jumping from the moving van even though she was tied up with duct tape. He ultimately ended up engaging in a gun battle with police right outside my kung fu school, and he was killed.

But what if he had taken a student from our school?

Could a girl like that use her kung fu skills?
3. When you write your mysteries, how do you plot the story out?
I start by making lists of:
•

all the things that might happen (she tries to fight back, but he uses a Taser).
•

scenes that would be a natural consequence of earlier scenes (she wakes up at his house).
•

things that would make it worse (he has already kidnapped another girl, so there are two of them).
•

scenes that would be exciting to write. (she finally confronts the killer).
Then I combine them all into a logical order.
4. You touch on mental illness in this book along with three troubled main characters, how was writing that?
I talked to an actual SAR member whose parent was biploar. That person was willing to share stories with me. I also read a lot about what it's like to have a biploar parent.

In books, I think we want to read about characters who have problems, who are struggling.

I'm not sure I could relate to - or care about - someone whose life was perfect.
5. You write books both for Young Adults and for Adults, how do you find the differences in the two?
I write pretty much the same way for adults and YA.

My YAs are usually shorter, and the characters are teens, but that's about it.

It's everything that happens afterward that's different.

Adult books are really only given 8-10 weeks to show success, whereas YA publishers know you might pick up a state award three years after publication.

Librarians are key to many to the success of many YAs, whereas they are not as vital in helping adults find great books.

Teens will love you and your books (or hate you and your books) to an extent you would never find with adults, who are always more dispassionate.
About April Henry:
I write mysteries and thrillers. I live in Portland, Oregon with my family.

If you've read one of my books, I would love to hear from you. Hearing from readers makes me eager to keep writing.

When I was 12, I sent a short story about a six-foot tall frog who loved peanut butter to Roald Dahl, the author of Charlie and the Chocolate Factory. He liked it so much he arranged to have it published in an international children's magazine.

My dream of writing went dormant until I was in my 30s, working at a corporate job, and started writing books on the side. Those first few years are now thankfully a blur. Now I'm very lucky to make a living doing what I love. I have written 13 novels for adults and teens, with more on the way. My books have gotten starred reviews, been picked for Booksense, translated into six languages, been named to state reading lists, and short-listed for the Oregon Book Award.

I also review YA literature and mysteries and thrillers for the Oregonian, and have written articles for both The Writer and Writers Digest.
Want to find out more about this tour? Check out the list of hosts below!
Adventures of a Book Junkie