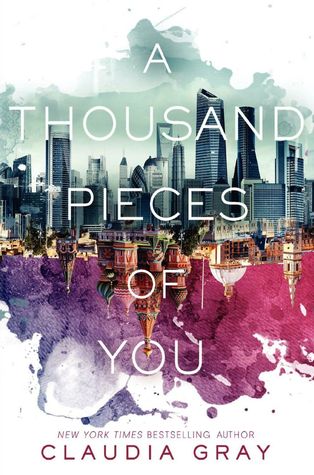 Author: Claudia Gray
Goodreads Rating: 4 Stars
Pages: 357
Format: Finished Copy from the Publisher
Every Day meets Cloud Atlas in this heart-racing, space- and time-bending, epic new trilogy from New York Times bestselling author Claudia Gray.

Marguerite Caine's physicist parents are known for their radical scientific achievements. Their most astonishing invention: the Firebird, which allows users to jump into parallel universes, some vastly altered from our own. But when Marguerite's father is murdered, the killer—her parent's handsome and enigmatic assistant Paul—escapes into another dimension before the law can touch him.

Marguerite can't let the man who destroyed her family go free, and she races after Paul through different universes, where their lives entangle in increasingly familiar ways. With each encounter she begins to question Paul's guilt—and her own heart. Soon she discovers the truth behind her father's death is more sinister than she ever could have imagined.

A Thousand Pieces of You explores a reality where we witness the countless other lives we might lead in an amazingly intricate multiverse, and ask whether, amid infinite possibilities, one love can endure.
I was not thrilled with the first book by Gray that I read, but I saw this book, and I wanted to like it so much. But then I saw the cover and I needed to love this book. With that cover and the concept and the crazy world. I just wanted to fall in love with this book so much. And when I got it, there was no way that I couldn't fall in love with this book.
I really adored Meg and her quest for vengeance for her father's death. She goes to all lengths to kill the man that she holds responsible for the ruin that her family became. Her devastation and strength were so very real that I could feel it as I absorbed the pages and I understood what she was feeling. I adored the others in her life as well and how her family was. Reading about how her family was when they were together only managed to break my heart more as she talked about their family's "rainbow table." It made the loss of her father all the more painful.
The background character were also fantastic. Theo was a strong character who was so focused on avenging Meg's father also, but at the same time, his interest in Meg and protecting her was so adorable. I loved how they followed each other through the worlds to try to make what went wrong right.
The world building was fantastic. While the science behind the dimension jumping was beyond me, I loved exploring the different worlds that she had created. It was amazing that she handled the building of not one but three different worlds. The futuristic world where everything was holographic and another where technology hardly advanced and a final one where people were practically living underwater. I cannot even the vast different world that there could be and what Gray will think to include in the next book.
I am absolutely obsessed with this beautiful new series already, and I cannot wait to see what is going to come next! To share my excitement, I'm giving away a hardcover of this book! Enter to win below!
a Rafflecopter giveaway