Today we're spotlighting the final book in the Selection Series as part of the Harper Teen Summer 2016 Tour. We participated in the winter tour, and were so excited to get to participate in the Summer one as well!

AND

there is of course a giveaway, but I'll make you earn the giveaway.
First, I have to tell you all about The Crown, the final book in the Selection series, which if you haven't read, it's like total crack. Like you just can't put it down and you just want to keep reading more!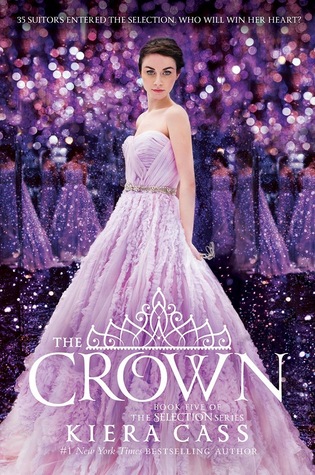 Kiera Cass's bestselling Selection series has enchanted readers from the very first page. Now the end of the journey is here, in a wonderfully romantic series finale that will sweep you off your feet.

Twenty years have passed since the events of The One, and America and Maxon's daughter is the first princess to hold a Selection of her own. Princess Eadlyn didn't think she would find a real partner among the Selection's thirty-five suitors, let alone true love. But sometimes the heart has a way of surprising you...and now Eadlyn must make a choice that feels more difficult—and more important—than she ever expected.

The Selection series has sold more than 3 million copies and captured the hearts of fans around the world. This swoonworthy final installment is the happily ever after they've all been waiting for.
I just love the cover of this book! I mean look at it! Besides checking out your local indie to order a copy, you can also get it at Amazon and Barnes and Noble. If you want to know more about The Crown be sure to check out the Goodreads page.
As part of this seasons tour, some of the authors will be participating in a live Facebook chat! You can be sure to find out more information HERE. The first chat is going to take place on February 16, so mark your calendar!
I know, I know I'm torturing you, you just want to know more about the giveaway, well the time is now my friends! This time there are not one, not two, but THREE giveaways! All of the details are below!
#1 – A Harper Teen Summer 2016 Catalog prizepack of 45 books*.
*Titles not included: The Crown by Kiera Cass, Escape from Asylum by Madeline Roux, Sing by Vivi Greene, The Countdown by Kimberly Derting, & United As One by Pittacus Lore
In addition to the one massive prize winner, we will also have 4 winners who will be able to select 3 titles they want from the Summer 2016 Catalog.
US Only
a Rafflecopter giveaway
#2 – 5 Finished Copies from the Harper Teen Winter 2016 Catalog
5 books are: Front Lines by Michael Grant, Revenge & the Wild by Michelle Modesto, The Lifeboat Clique by Kathy Parks, Symptoms of Being Human by Jeff Garvin, & The Girl from Everywhere by Heidi Heilig
Collect the daily word from each blog stop during the Harper Summer 2016 Tour (a total of 50). Once you've collected them all, email the complete saying to:
HarperTeenTour@gmail.com
Winner must have a valid US mailing address to receive the prize

Only one (1) entry per person for Prize #2 – duplicates will be deleted.

Only a completed phrase will be accepted as an entry – do not email each word/phrase daily. Wait until you have the complete saying and then email in.

All email submissions must be received by 11:59 PM EST 3/31/2016.

Winners will be selected 4/1/2016 and will have 48 hours to claim their prize before another is selected.

Participating blogs and bloggers are not responsible for unsent, damaged, and/or stolen prizes offered by the publisher.
#3 – Leap Year Giveaway - 4 of the most anticipated ARCs from Summer 2016
Books are: My Lady Jane, Ivory & Bone, The Crown's Game and This Savage Song
This giveaway will
only run on February 29, 2016.
The rafflecopter form will work for 24 hours and a winner will be chosen on March 1, 2016.
a Rafflecopter giveaway
Dying to get everyone elses words? Below are the other wonderful participants in this seasons Spotlight tour, so check every one of them out!