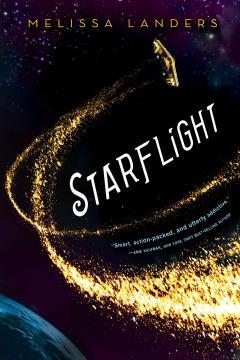 Today, I've got a special treat, talking about why if you love Firefly, you're going to LOOOOOOOOOVVVVVEEEE Starflight.
Life in the outer realm is a lawless, dirty, hard existence, and Solara Brooks is hungry for it. Just out of the orphanage, she needs a fresh start in a place where nobody cares about the engine grease beneath her fingernails or the felony tattoos across her knuckles. She's so desperate to reach the realm that she's willing to indenture herself to Doran Spaulding, the rich and popular quarterback who made her life miserable all through high school, in exchange for passage aboard the spaceliner Zenith.
When a twist of fate lands them instead on the Banshee, a vessel of dubious repute, Doran learns he's been framed on Earth for conspiracy. As he pursues a set of mysterious coordinates rumored to hold the key to clearing his name, he and Solara must get past their enmity to work together and evade those out for their arrest. Life on the Banshee may be tumultuous, but as Solara and Doran are forced to question everything they once believed about their world—and each other—the ship becomes home, and the eccentric crew family. But what Solara and Doran discover on the mysterious Planet X has the power to not only alter their lives, but the existence of everyone in the universe...
LINKS: Goodreads | Amazon | B&N | Indiebound | iBooks | The Book Depository
Melissa Landers writes romantic sci-fi for teens and the young at heart. ALIENATED and INVADED are now
available from Disney Hyperion, and UNITED, the third book in the trilogy, will release in August, 2016. The first novel in her new series, STARFLIGHT, launches February 2, 2016.
**IMPORTANT** Please do not request an ARC through Goodreads. All review copies are distributed by the publisher.
LINKS: Website | Twitter | Facebook | Instagram
Starflight and Firefly - Why they are a match made in the skies
Solara and Kaylee are both wicked smart and wicked funny. Both of these superstars lacked formal training in their field, but excelled when it came to understanding their ships.
While the captain of the Banshee is not nearly as ruggedly handsome as Mal, but both men show a devotion and love to their ships and their crews.
There's the one guy who you want to shove out an airlock, but you love him anyway.
Besides having rhyming names, Jayne and Kane were both lovable and also aggravating in their actions. Kane did eventually redeem himself which does help, but a little rough around the edges none the less.
Both ships take on passengers who aren't exactly telling the truth.
Solara leads the way in informing the crew of their vague trip whereas Simon is the one who keeps River a secret from the crew. While the nature of their relationships

There is banter between the sexual tension.
Solara and Doran may not have had the easiest start to their relationship, but that's what makes you want them to succeed, not to mention open their eyes to the fact that they have amazing chemistry.
At it's core, it's a love story.
But it's a love story set in space.

2/12:
Novel Heartbeat - Review
a Rafflecopter giveaway