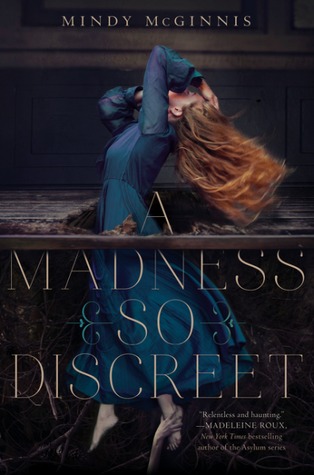 Author: Mindy McGinnis
Goodreads Rating: 3.84
Pages: 384
Format: ARC from the Publisher
Publisher: Katherine Tegan Books
Grace Mae knows madness.

She keeps it locked away, along with her voice, trapped deep inside a brilliant mind that cannot forget horrific family secrets. Those secrets, along with the bulge in her belly, land her in a Boston insane asylum.

When her voice returns in a burst of violence, Grace is banished to the dark cellars, where her mind is discovered by a visiting doctor who dabbles in the new study of criminal psychology. With her keen eyes and sharp memory, Grace will make the perfect assistant at crime scenes. Escaping from Boston to the safety of an ethical Ohio asylum, Grace finds friendship and hope, hints of a life she should have had. But gruesome nights bring Grace and the doctor into the circle of a killer who stalks young women. Grace, continuing to operate under the cloak of madness, must hunt a murderer while she confronts the demons in her own past.

In this beautifully twisted historical thriller, Mindy McGinnis, acclaimed author of Not a Drop to Drink and In a Handful of Dust, explores the fine line between sanity and insanity, good and evil—and the madness that exists in all of us.
This book man - right of the bat, you feel for Grace Mae and the sort of hell that she is subjected to. For the first several chapters while she is in Boston, all I can think about his how terrible what she's going through is. The awful treatment that she is subjected to is at points hard to breath.
I loved Grace's voice once she found it. She was so clever and I love how Thornhollow encouraged her and got her to find her voice after having been repressed for so long. Both of them were absolutely out of their minds, but the way that their minds worked and that they were able to deduce killers - well it's an old fashioned Criminal Minds and I loved that, so loving this was easy.
This book leads you through twists and turns that you never see coming. The supporting cast of characters like Nell and Lizzie were so loveable that you wish that they had a book of their own. Mindy has a great voice and this book is a perfect book to curl up with on a chilly, Spooky October night.
ABOUT MINDY McGINNIS:
Mindy McGinnis is a YA author who has worked in a high school library for thirteen years. Her debut, NOT A DROP TO DRINK, a post-apocalyptic survival story set in a world with very little freshwater, has been optioned for film my Stephanie Meyer's Fickle Fish Films. The companion novel, IN A HANDFUL OF DUST was released in 2014. Look for her Gothic historical thriller, A MADNESS SO DISCREET in October of 2015 from Katherine Tegen Books. Mindy is represented by Adriann Ranta of Wolf Literary.
TOUR SCHEDULE:
a Rafflecopter giveaway